Pest-resistant crops will reduce farmers?reliance on chemicals, but fears remain over food safety. Peng Yining in Beijing reports.
Mei Duanshi handles grains of rice as if they are precious diamonds. "Have you ever seen such good, quality rice before?" asked the 61-year-old farmer after pouring a small pile of Chinese-grown grains onto his kitchen table.
After spending more than three decades growing rice on 20 hectares of land in Hulin, Heilongjiang province, he knows quality when he sees it.
He also knows it comes at a cost.
"We sprayed our fields with pesticide twice a year, usually before and after we planted the seedlings in May," said Mei, who gave up his farm to live with his daughter last year.
"An airplane would shriek over our heads and dust the crops with about 30 liters of chemicals, giving the air a pungent odor."
In the cold northeast of China, where the biggest threat to rice crops is the leaf-mining fly - "they're tiny but deadly for plants" - farmers spray their fields far less often than those in the humid south, he said.
"My wife and I knew the chemicals were not good for our health but it was the only way to kill the pests."
Although he feels finding a way to reduce farmers' dependence on pesticides is paramount, Mei is still wary of the alternative: Genetically modified (GM) rice.
"My understanding is they impose the genes of one species onto another, which is a violation of the law of nature. I am not sure about that," he said when asked about the two varieties of GM rice that have been approved for field trials by the Ministry of Agriculture.
Mei's reaction is not uncommon. Although the crops - developed by Huazhong Agricultural University in Wuhan, Hubei province - have passed the government's safety tests and could dramatically reduce the use of pesticides, many people are still skeptical about the long-term effects of what some describe as "Frankenstein foods".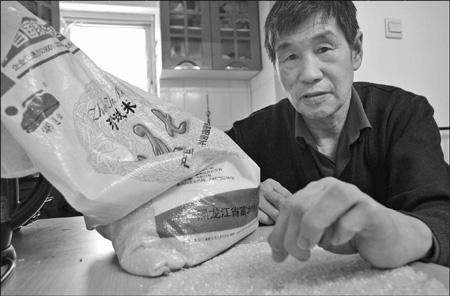 Mei Duanshi, a 61-year-old retired farmer from Heijongjiang province, spent more than three decades growing rice. He is wary about the safety of genetically modified rice. peng yining / china daily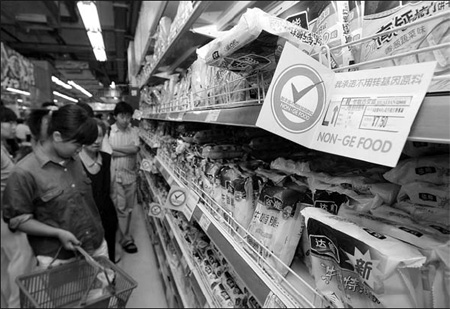 Shoppers browse the shelves at a supermarket in Shanghai, where bosses are using signs to assure customers that their produce does not include any genetically modified ingredients. GAO ERQIANG / CHINA DAILY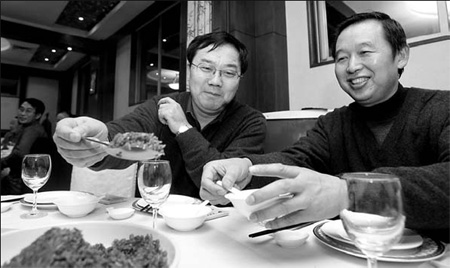 Experts at Huazhong Agricultural University in Wuhan, Hubei province, taste food cooked from GM rice in February. Song Rongcheng / For China Daily
The GM rice cleared for trials last August -- Huahui 1 and Shanyou 63 -- contain a bacterium called bacillus thuringiensis (BT), which creates proteins that naturally repel insects, particularly the rice stem borer. Both strains will reduce the use of pesticide by 80 percent while raising yields by up to 8 percent, said Huang Dafang, a member of the biosafety committee affiliated to the ministry.
China already imports four kinds of GM crops - cotton, soybean, corn and canola - but if the homegrown GM rice goes on to be certified by the General Administration of Quality Supervision, Inspection and Quarantine, and the Ministry of Health, it will make the country the first to fully approve a GM staple.
More than 400 million tons of rice was grown across the world in 2008, with about 40 percent coming from China's 30 million hectares of rice fields, according to a National Rice Research Institution report last year. Almost half of the country's 1 million tons of exported rice went to Africa.
"Hundreds of millions of farmers make a living from rice. The health of each one of them is at risk from pesticide use," said Lu Ping, a researcher at China Agricultural University.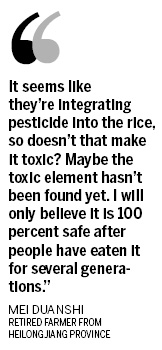 Last year, Lu and her team spent 40 days in a village in Sichuan, a major rice-growing province. They discovered that, from a population of 2,000, three farmers had died from diseases related to long-term exposure to pesticides in the last three years. "Most rice farmers underestimate just how toxic these chemicals and sprays are. They rarely wear any of the necessary protection, such as mask and gloves," she said.
One man was killed when he accidentally swallowed pesticide while trying to suck an obstruction out of a spray pipe, she recalled. "Another villager showered his cow with pesticide to kill lice but instead killed the cow. He then ate the dead animal. He survived but he had no idea he could have poisoned himself."
Sun Jing, director of the Pesticide Eco-alternative Center in Yunnan province, conducted similar studies since 2007. Her team has interviewed hundreds of farmers and found 20 percent regularly suffered dizziness or nose bleeds after using agricultural chemicals. "There's no doubt these chemicals, especially pesticides and herbicides, harm farmers' health," she said. "Reducing the use of pesticide and promoting alternative forms of pest control will be the future of farming."
A GM rice crop that repels pests without the need for chemical sprays would be many people's choice for an alternative, said Sun. However, there are still serious concerns over the safety of GM food, with debate continuing to rage over whether it is potentially dangerous to consumers.
"Rice is eaten by almost every single person in China, so people are particularly concerned about GM rice," said Xue Dayuan, chief biodiversity scientist at the Nanjing Institute of Environmental Sciences under the Ministry of Environmental Protection. "Risks also come from the potential genetic pollution."
Genes from GM rice could contaminate other species, potentially causing uncontrolled hybridization, which could put pure wild varieties at serious risk of extinction, he said. "We need precise regulation on GM crops before commercialization. I'm worried that we haven't set up an effective system to regulate the research and production of GM food."
Although agriculture officials are yet to approve the commercial cultivation of GM rice or the importation of GM grain, a report released by Greenpeace China on March 15 said GM rice is already on sale at Wal-Mart and Zhongbai stores in Hunan province.

The provincial government denied the claims, saying that no pest-resistant GM ingredients had been found in any of the 32 brands of rice being sold at the supermarkets. "Samples were taken from the Wal-Mart outlet in the capital Changsha, and several other stores and mills, but no GM ingredients were found after careful analysis by professional testing institutions," the authority said in a statement.
For retired farmer Mei, the biggest question is whether the genes that kill insects are also potentially hazardous to humans. "It seems like they're integrating pesticide into the rice, so doesn't that make it toxic?" he said. "Maybe the toxic element hasn't been found yet. I will only believe it is 100 percent safe after people have eaten it for several generations."
When Chinese farmers began planting GM soybeans imported from the United States and yields went from 1,500 kg per hectare to 4,500 kg, Mei was initially amazed by this "magic" crop. "But nothing is perfect. GM technology seems too good to be true," he said. "The newspapers told us pesticides were perfectly safe at the very beginning but now everybody knows they aren't. Who knows what is going to happen with GM rice after five or 10 years."
Using pesticides and herbicides, Mei's farm grew about 150,000 kg of grain and generated about 375,000 yuan ($55,000) a year, a fair income in China's countryside.
"I believe Chinese farmers can provide enough grain for all of us. Why should we take the risk of using uncertain technology?" he said.
According to a spokesman for the National Key Laboratory of Crop Genetic Improvement at Huazhong Agricultural University, the BT protein only works on the rice stem borer, yellow rice borer, leaf roller and other lepidoptera pests, and poses no threat to humans as there is no "binding site" that triggers the protein in the human intestinal tract.
People have been using BT proteins as bio-pesticides for more than 70 years, with large-scale cultivation and application of BT crops has been going on for more than 10 years. There have been no reports of anaphylaxis, or extreme adverse reactions, the spokesman said.
Rats fed GM rice for eight days developed no biological differences from rats fed natural rice over the same duration, he said. According to local media, scientists at the laboratory have also eaten the GM rice they have been working on for years and have suffered no health problems.
"In the US, we have been consuming GM crops, corn, soybeans, for 15 years. There is no food safety problem from this proven technology," said Scott Rozelle, an agricultural expert and professor at Stanford University, California, who co-authored a 2005 article on the GM rice in China for Science, a top professional journal. "If one looks carefully at food safety issues (there are many and they are publicly available) there is zero - not one - that shows that there is any adverse health consequences or risk of health consequences from BT crops. So food safety is a plus for GM rice.
"In farming communities there is a preference for GM crops that reduce pesticides. As our studies in China show, GM crops hold potential for improving the environment, improving (farmers') health and improving water quality."
Experts at the National Key Laboratory also claim experiments they conducted prove GM rice will not pollute other species. However, they are yet to reveal details of the experiments or publish an academic paper on the subject.
"We need new technology to feed people, as the population keeps growing and resources are limited," said Long Manyuan, a genetics professor at the University of Chicago. "Most people who worry about GM rice don't know what's going on. Scientists should explain their work to make people understand what's going on. We need responsible media."
Rozelle agreed and said scientific knowledge is essential to the discussion over GM crops.
"There are a few organizations that out of ideology are trying to spread mistruths about new technologies, and for some reason the press picks these up," he said. "Let the consumers choose. You will see that consumers will gain confidence as GM rice becomes a part of their diet. Prices will fall, and health and water quality will rise. China will be a world leader in this."
Control of the GM technology patent is also the subject of furious debate, with some groups fearing that the involvement of large, multi-national companies could spell disaster for Chinese farmers.
"Big multi-national agricultural companies such as Monsanto are among several overseas organizations or institutions which hold patent rights on GM rice lines being developed in China. If GM rice was allowed to be commercially grown in China then it is these big multinationals that will effectively own China's rice bowl," said a Greenpeace report last year.
"The commercial GM seed business has driven seed prices up and, in some cases, has elbowed non-GM seeds out of the market. Agrochemical giants have shown how they love to squeeze profits out of struggling farmers by charging technology fees."
Scientists at Huazhong Agriculture University replied by saying two varieties of GM rice - Huahui 1 and Shanyou 63 - contain a Chinese-created BT gene and that they are applying to China's government for plant variety rights, which would give them exclusive control.
Whatever is decided, Mei said the future is out of farmers' hands. "If the GM rice is commercialized someday, I guess farmers will have to grow it," he said. "They can't decide the seed price, so all they can do is hope the insect-resistant rice works like the scientists say it does."
By Peng Yining in Beijing (China Daily 03/29/2010 page1)
编辑:baikaishui